Pete Wentz: Life With Bronx is 'Like Legos'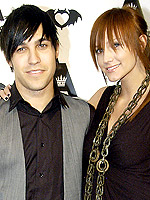 Paul Warner/WireImage
When rocker Pete Wentz entered into the labor and delivery room with his wife Ashlee Simpson-Wentz, the start of many firsts for the soon-to-be dad began to quickly unfold. Watching his wife in pain as he was left to stand helplessly at her side, Pete shares with The Morning Mash Up that his sudden, temporary feelings of an oncoming heart attack led to his first "scared daddy moment." However, when the couple welcomed their first child — son Bronx Mowgli — moments later, Pete's worries were instantly washed away. "The first time I held him…I just knew everything was perfect," notes the proud papa.
"Like everything was good — it was like Legos, you know what I'm saying, like it all fit together."
Now at home with his family of three, Pete is settling into his dad duties which, among many diaper changes, has included a quick taste of Ashlee's milk. Sharing that Bronx is strictly breastfed — "it's the only thing he's had a chance to have" — Pete couldn't help but sample what his son "loves" so much. However, following a quick sip of the "soury" and "weird" milk, Pete admits that he was not so fond of the unique taste as Bronx seems to be! Continuing with the trend of firsts, Pete — who gained approximately 10 pounds of sympathy weight during the pregnancy — and Ashlee are looking forward to spending their first Christmas together as a family. A budding musician who already is the proud owner of a "a little bass" and "a little piano," Bronx's first Christmas will be filled with gifts as Pete laughs that there will be no short supply of presents under the tree!
"I don't think at one they matter that much to him, but they matter a lot to me, so I'm going to be there sweating it out, putting things together…the night before Christmas because I know that's what my dad did and I know that's what I want to do."
Although Pete, 29, is still learning the ropes of parenthood, his experiences so far have him already planning to expand his family further. Throwing out the hopeful number of six, Pete laughs that he isn't sure how many kids he and Ashlee, 24, will have, but is certain there will be siblings for baby Bronx! Unable to "imagine that we're stopping," Pete compares his thoughts on future babies to that of a Journey song — "the chorus is just going to keep coming!"
Source: The Morning Mash Up via Us Weekly