Check Out Our Newest Gallery: Baby Names Explained!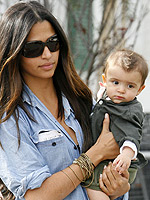 Splash News Online
This was quite a year for celebrity babies: We saw the births of Matthew McConaughey, Christina Aguilera and Nicole Richie's first children, took a peek inside the lives of Jennifer Lopez's twins and met the latest additions to the Jolie-Pitt family. But what intrigued many of us the most about these babies were their names!
Celebs have always been known to pick names for their children that may not be considered typical, but this year brought us everything from  "Honor Marie" to "Bronx Mowgli." Check out our latest gallery, Baby Names Explained, to learn more about why celebrities chose the names they did for their children this year!