The Alves-McConaugheys Conquer the Grand Canyon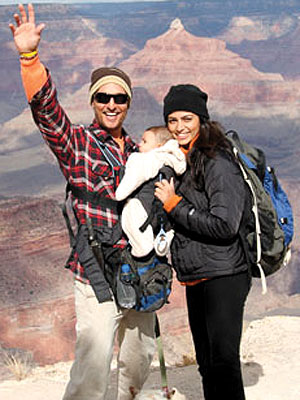 Courtesy Matthew McConaughey
Taking to his MySpace to blog about his recent travels, Matthew McConaughey writes that he spent his 39th birthday in November with girlfriend Camila Alves and 5-month-old son Levi livin' on the edge — of the Grand Canyon!
"[We were] on the southern rim," the actor notes. "[I] almost got butted off the edge by a ram and caught some shooting stars … as for the first sight [of the Grand Canyon], Mother Nature created something that looks so fake, it's real."
The family also spent time this fall in Camila's native Brazil, a trip that was a first for Matthew, and one which he enjoyed very much. "[We went to] visit my lady's family and tour the land a bit. Found a very proud and happy culture there," Matthew writes. "We ate, we drank, we danced, and they tolerated my stumbling through the Portuguese language … I will return, beautiful country, beautiful and classy people."
Matthew and Camila, 25, welcomed Levi in July of this year. He is the first child for the couple.
Source: Matthew McConaughey