Emery Hope: Behind Angie Harmon's Name Choice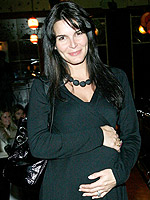 Donato Sardella/WireImage
With many readers expressing their opinions on Angie Harmon and Jason Sehorn's choice of Emery Hope for their third daughter, we spoke to Linda Rosenkrantz, co-owner of NameBerry, as well as co-author of The Baby Name Bible: The Ultimate Guide By America's Baby-Naming Experts to get her take on the moniker and the popularity of virtue names. She tells us,
"More than any celebrity since Sylvester Stallone (whose three daughters names all start with 'S' and have the middle name of Rose), Angie Harmon and Jason Sehorn have established a definite pattern in naming their trio, Finley Faith, Avery Grace, and Emery Hope. The three first names are all formerly male names, and all end in the letter 'y' — giving them the 'ee' sound that makes them a bit more feminine. All three have virtue middle names — which also go a long way towards softening their names.

The couple's first two choices have definitely had an influence on other baby namers — Finley, an Irish surname, had rarely been used as a girl's name before, and it's now an accepted option, while Avery is making a rapid climb up the popularity lists, already in the Top 50 last year, and definitely moving higher. The same thing could happen to Emery, which is a slightly more serious sounding name with German roots, but parents might well start to see it as a fresher alternative to the overly popular Emily and Emma."
What do you think of virtue names? Would/did you use one for your child?