Baylee Littrell Diagnosed With Atypical Kawasaki Disease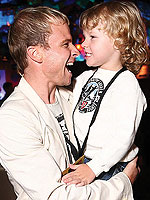 Alberto E. Rodriguez/Getty
Update: Baylee Littrell was released from the hospital on Saturday, Brian and wife Leighanne share with fans. After his admittance, Baylee, 6, was initially "treated for or thought to have" strep throat, hand, foot, mouth disease and erythema multiforme. However, after numerous medical treatments and procedures — including a biopsy, blood tests, an EKG and two echocardiograms — Baylee was diagnosed with atypical Kawasaki Disease.
The Backstreet Boy and his wife, who write that they would "like to stress [atypical] because Baylee did not have text book symptoms of any of the viruses they thought he had," explain that Kawasaki Disease causes inflammation in the coronary arteries, as well as the walls of the small and medium sized arteries throughout the body. "Unfortunately, Baylee's coronary arteries were affected," the couple revealed. "He received an IVIG, which is a treatment to bring down the inflammation in his coronary arteries. Baylee will be closely monitored for the next 6-8 weeks by a Pediatric Cardiologist to see if the treatment was effective."
Thankful to friends, family and fans for their prayers, Brian, 33, notes, "We want to thank every one who prayed for us as well as all of the emails and phone calls. Your love and support means so much to our family … We are humbled by the love and compassion that people have for our son all over the world, thank you!"
Click below for the original post.
Originally posted December 19th: In a message posted to his official website yesterday, Backstreet Boy Brian Littrell revealed that his 6-year-old son Baylee Thomas Wylee has been hospitalized. "For those of you who do not know or have not heard, Baylee Littrell has been in the hospital for the past few days," the 33-year-old singer writes.
"He will be starting a treatment this afternoon and the Littrell family asks that all Backstreet Boys fans please remember him in prayer during this trying time."
Reminding that "every little prayer helps and every single prayer counts," Brian and wife Leighanne, 39, go on to wish fans a Happy Holiday. No additional details on the nature of Baylee's illness are provided, but Brian promises that more information "will follow."
Baylee is the only child for the couple, who were married in 2000.
Source: BrianLittrell.com
Thanks to CBB readers Kelley, Mary Beth, Erika, Monika, Rachel, Kelly and Aline.