Gavin and Gwen Go to the Grove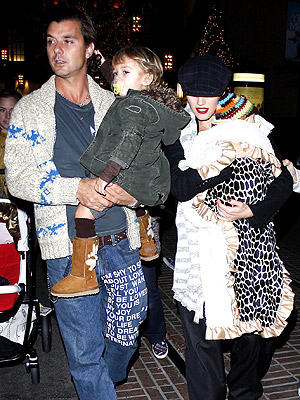 Juan Carlos/Ramey
Getting in a little holiday shopping, rockers Gavin Rossdale and Gwen Stefani each held one of their sons — Kingston James McGregor, 2 ½, and Zuma Nesta Rock, 4 months — while navigating the crowds at the Grove Shopping Center on Thursday evening.
Gavin recently admitted that he finds the attention focused on his family to be "strange," noting that their day-to-day life isn't all that interesting.
"I love the idea of escaping into other people's worlds, but to me,that stuff is dull. Those photos of us taking out the trash, 'Whoop deedee.' It takes away from what we are doing with the work."
For more of this rockin' family, check out our Stefani-Rossdale Family Photo Album!
Zuma is wrapped in a Patricia Ann Designs Giraffe Oversized Blanket with Tan Trim ($78).