Adam Sandler's Bedtime Stories Get Sadie 'Riled Up'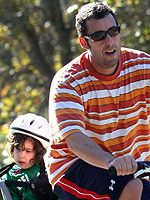 KM Press
It probably comes as no surprise to fans of Adam Sandler — star of the new film Bedtime Stories — that when the 42-year-old actor is on story duty with 2 ½-year-old Sadie Madison, it often has an adverse effect! "I'm not great at the bedtime stories," he admits. "The bedtime stories are supposed to put the kid to sleep, [but] my kid gets riled up." Sadie puts her own spin on the nightly ritual, and Adam says he's begun to detect a recurring theme.
"Every subject she brings up has to do with food. She'll say, 'Waffles.' And I say, 'OK, there was a giant waffle.' And she says, 'Pancakes.' And I say, 'And he met a blanket made out of pancakes.' 'Syrup.' And then they had to cross the river made of syrup."
Adam has said previously that the transition for Sadie from only child to big sister to Sunny Madeline, 6 ½-weeks, has been "shocking" and it appears as though the new baby could use some protection around the house! With the first day of Hanukkah on Sunday, Adam jokes that he bought his youngest daughter "a BB gun" and his eldest daughter "a German helmet."
Sadie and Sunny are Adam's children with wife Jackie; Bedtime Stories opens Dec. 25.
Source: National Post