Donald Trump Jr. and Family Cover Page Six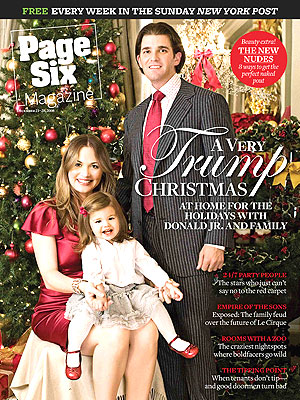 Courtesy Page Six
Expecting their second child in February — they're keeping the sex a delivery surprise again! — Donald Trump Jr. and wife Vanessa Haydon Trump pose with daughter Kai Madison, 19 months, on the cover of the newest Page Six Magazine. The family discuss their Christmas traditions, as well as gifts for the new baby — stepmom Melania Trump has already purchased two teddy bears (one pink, one blue) for the new arrival.
Despite the lavish lifestyle the Trump family is known for, Vanessa and Donald Jr. consider themselves to be level-headed about their situation. Says Donald Jr.
"Vanessa and I both grew up with the understanding that we were incredibly fortunate to be in the positions that we were in. I think we've got to try to instill that in the generations to come."
Who else is due in the months ahead? Find out in our Who's Due Next gallery!
Source: Page Six Magazine
Vanessa wears a Fierce Mamas for Moody Mamas by Christian Siriano dress. Kai wears babyGap's Ruffle-trim Blouse in Antique White ($8), paired with their Ruffled Tulle Party Skirt in Metallic Silver ($20) and Sparkly Ballet Flats in Russian Red ($20).