Brad Pitt Skips Shopping Sprees, Teaches Children the Gift of Giving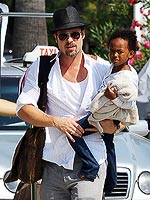 Eliot Press/Bauer Griffin
Money can't buy everything, so the saying goes, and the Jolie-Pitt clan are proving to be a prime example when it comes to their holiday gift buying. Avoiding the craze of expensive presents for his six children — Maddox Chivan, 7, Pax Thien, 5, Zahara Marley, 3 ½, Shiloh Nouvel, 2 ½, and fraternal twins Knox Léon and Vivienne Marcheline, 5 months — Brad Pitt shares with Hello! magazine that he and his partner Angelina Jolie have not given their brood a chance to watch American commercials, which has in turn created a sense of innocence when it comes to extravagant toys. "The kids don't ask for big gifts for the reason that they don't see a lot of the American cartoon television, which is packed with all those manipulative commercials for big toys that look so fantastic," explains the actor. For Brad, the logic is quite simple — when his children are exposed to the enticing ads is "when they start asking for the toys," but sensor what they see and "they won't know they're there."
While the kids may not be opening stacks of luxurious gifts this Christmas, Brad shares that come Christmas morning, the space under the tree is not empty! In place of boxes and boxes of toys from the stores — as the couple "try to keep the money spent to a minimum" — the children find special presents from each one of their siblings; Not only are they excited, but the gift of giving has become a special time for the proud parents as well.
"The rule is that everyone's got to make something for someone else, you got to put time into it. Then, when they give to each other, it's really sweet."
Brad's new movie, The Curious Case of Benjamin Button, is in theaters December 25th.
Source: Hello!