Adam Sandler's Life is 'All About the Ladies'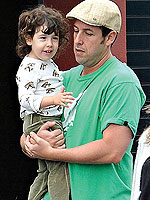 Fame
The holidays have come early for Adam Sandler and his family! A prelude to the gifts 2 ½-year-old daughter Sadie Madison will receive during the first Hanukkah where she "will know what's going on," the 42-year-old actor is thrilled to premiere his first Disney movie Bedtime Stories — a project he took on with his little girl in mind. While Adam and his wife Jackie's 6-week old daughter Sunny Madeline is "too small to watch TV," the proud papa says he was "happy" to make a film that his girls will, eventually, be able to share with their friends at slumber parties. Adam jokes that his movie resumé so far has not been quite appropriate for children!
"My movies come on television and I watch them for a few minutes with my kid and I go, 'I better change the channel here.' I was excited to make a movie that one day when my kid has sleepovers, maybe I can say, 'Throw in daddy's movie' and everyone can have fun."
After welcoming their second daughter — "a very nice kid" — Adam shares that he is "very thankful" to be the father of two little girls as he laughs that, as of now, he is outnumbered in his household! "It's all about the ladies with the Sandman," jokes Adam. However, Adam isn't complaining about his wonderful opportunity to learn "more and more" about women, and instead embraces his position as a ladies man.
"These are the first two girls who have talked to me for over an hour straight!"
Bedtime Stories is in theaters December 25th.
Source: Good Morning America