Henry Aronofsky is a Comedy Pro, Say Rachel and Darren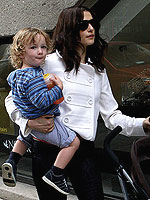 Todd G/Splash News
Children sometimes give their parents a glimpse at what will become their adult personalities, and if that's the case, Rachel Weisz and Darren Aronofsky's 2 ½-year-old son Henry Chance may just become a comedian! At the Gotham Independent Film Awards, Rachel shared that her baby boy is doing "really well" and that he has "a good sense of humor." Sheepishly, dad Darren then added that Henry's approach to humor may not please everyone — he "does an R-rated knock knock joke in G-rated language."
"I said to him, 'Say knock knock', so he did, and I said, 'Who's there?' He thought for a while and went, 'The doorman.' I told him that wasvery good, the man at the door. And I said, 'The doorman who?' and hereplied, 'The doorman caca.' I thought, pretty good, he did hisfirst poo-poo joke."
Henry is the first child for actress Rachel, 38, and director Darren, 39.
Source: This is South Wales