Niki Taylor Looking Forward to 'Starting All Over'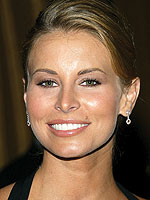 Rena Durham/KPA/ZUMA
In a new interview Niki Taylor reveals that she knows the sex of the baby she's due to deliver in early March, but is keeping the news a secret. When asked whether she foresees her 14-year-old twins Jake and Hunter doing much babysitting, however, the 33-year-old supermodel offered up what could be considered a Freudian slip! Answering no, Niki adds "I'm only having one this time so I want him all to myself." With that said, the age gap between her first two children and her third may be sizable but Niki views it as a positive.
"I'm so excited. It's been a long time. It's like starting all over."
As for baby-on-the-way's name, Niki says that it's one decision she's happy to hand over to husband Burney Lamar. "That's my husband's job," she explains. "I know the name, too, but I don't want to say anything yet."
Jake and Hunter's dad is Niki's ex-husband Matt Martinez.
Source: Papierdoll