Matthew Broderick Says James is 'Not Thrown' By Dad's Career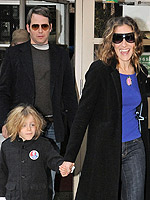 Mario Magnani/Bauer Griffin
Matthew Broderick says his role in the upcoming animated film The Tale of Desperaux has earned him some major cool points with James Wilkie, his 6-year-old son with wife Sarah Jessica Parker. Father and son caught the flick together "about two weeks ago," Matthew says, with good results! "He loved it," the 46-year-old actor tells OK!, adding,
"It's fun for him and he gets into the movie pretty quickly and he's seen me in a few things so he's not that thrown by it. He's used to me being in cartoons."
Next up? "A family-type, small Christmas" in New York City, Matthew reveals.
The Tale of Desperaux hits theaters Dec. 19.
Source: OK!