Keri Russell Dishes on River's Latest Milestones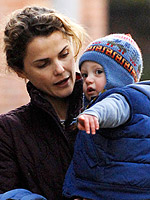 Ramey
A beaming Keri Russell raved about life with 18-month-old River Russell during a Tuesday appearance on the CBS Early Show. Chatting with co-host Maggie Rodriguez, Keri — who was gifted with a variety of children's books like Harry the Dirty Dog and Good Night, New York City — called her son "a nice little guy" who has plenty of ways to keep his mom amused!
"He doesn't talk a lot. A lot of caveman language and pointing. But he's so sweet and funny and I just — my favorite is his dancing. I love the way he dances…When they throw the moves out, I love it."
Also earning high marks from the 32-year-old actress is husband Shane Deary, whom she praised as "a great dad." "He's awesome and he builds houses…He's got it all going on," she added. While the couple take turns reading to River, Shane prefers more hands-on activities with his son. "I'm big more on the reading, he is big more on the wrestling," Keri revealed.
Keri's new movie Bedtime Stories opens Dec. 25.
Source: The Early Show