Kate Winslet On Son's Name Change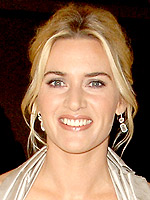 Jon Kopaloff/FilmMagic
From the sound of things, Shiloh Nouvel Jolie-Pitt, 2 ½, isn't the only celebrity baby seeking a name change! Kate Winslet says her son Joe Alfie, turning 5 next week, has also decided that his given name no longer fits. During a Monday appearance on The Tonight Show with Jay Leno, the 33-year-old actress revealed that Joe currently responds only to the name of 'Traiver,' which he created quite by accident while searching for his "trainer" shoes.
"He turns to me and says, 'My name is not Joe, okay? So just don't call me that anymore. That's why I've changed it to Traiver. But you can call me Traiver, or Traive.' I said, 'Okay, that's really cool Traiver, how do you spell that?' … It was so sweet."
With the holiday rapidly approaching, Kate said that both her children — including daughter Mia Honey, 8 — still believe in "Father Christmas," and since they might watch her appearance on the show Kate held her ground! "Father Christmas is real, so lets not go there, because it's a really special time." When asked by host Jay Leno if the wrapping paper ever arouses any suspicion with the kids, Kate answered in the negative, noting "the gift wrap in the North Pole is so completely different." She added,
"You can't get the same gift wrap in the North Pole that you'd get in London or New York or wherever else you might be. There is no confusion…we've got it down."
There will be even more gifts to wrap for Joe, who has the "terrible" fortune of being a Christmas baby, having been born on December 22nd. Kate's brother also has a December birthday and she vividly recalls that "he wouldn't get as many gifts" as she and her sister on Christmas morning; Determined not to let Joe suffer the same fate, Kate makes sure that her son has "a separate party, with separate presents" each and every year. "You give them a cake, a balloon, something to give to their friends to take home and a glass of wine for the grown-ups and it's a party," she said.
Mia is Kate's daughter with ex-husband Jim Threapleton; Joe is her son with husband, director Sam Mendes. She has two new movies hitting theaters in upcoming weeks — Revolutionary Road and The Reader.
Source: The Tonight Show with Jay Leno