Adam Sandler's Dreams 'All Came True'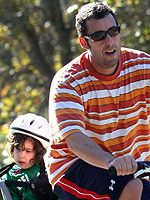 KM Press
As a young, up-and-coming actor Adam Sandler had an idea of what his life might one day be like. "I wanted to go to Hollywood, become a huge star, live in a mansion with nothing but chicks," he revealed Monday on The Late Show with David Letterman, "and it all came true." Those "chicks," of course, might not be the kind that he initially envisioned! Dad to Sadie Madison, 2 ½, and new baby Sunny Madeline, 6 weeks, with wife Jackie, Adam noted that even the family dog is a girl. "I have it all happening," he said. As for his eldest daughter, life as a big sister has been "shocking."
"You feel like you cheated on your first kid [when you have a second]. She acts kind of like that. She'll come up to me and ask, 'What did you do last night?' Just hung out. 'Who were you with?' You know, was with that new little thing in the house. 'Was she cool?'"
Adam, 42, admitted that while he and Jackie feel that Sunny is "a cute name," his own mom is not as enthusiastic. "'That's a nickname,' she kept saying," Adam revealed. "'You've got to give your child a real, proper name…if you want to call her Sunny, that's fine, but a real name!'" In an effort to "take care of Mom-Mom" Adam joked that the couple "put down Sunday Night Football" on Sunny's birth certificate. Next up for Adam is the more family-friendly film Bedtime Stories, and his decision to take the role is directly tied to his most important role of all — dad!
"I was watching television with my little daughter, and I was like, 'This is so disgusting, what is on television? It's smutty, it's gross.' And then I realized that it was one of my movies. So I said we've got to make a nice movie for the children."
Bedtime Stories opens December 25th.