Tom Cruise: Suri Was Sensational on Set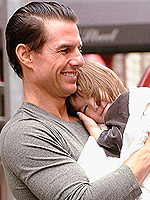 NY Team/Most Wanted
While many actors tend to dissuade their children from following in their footsteps, Tom Cruise — who calls acting "a great life" — reveals at the premiere of his new movie Valkyrie that he would "love it" if his three children were to join him in the industry. With his son Connor Antony, 13, making his film debut in Seven Pounds on Friday, Tom shares that Suri is showing a lot of potential as well! A pro when it comes to life on location, Suri "quickly…adapted to set," learning to "be quiet" while her father was filming and would "watch the monitor and talk," boasts the 46-year-old actor. However, despite her natural ease around the set, Suri initially had trouble adjusting to Tom's eye patch.
"Suri would come up and take it off. Suri would be in the make-up trailer and she'd pull my patch off. So the girls in the make-up trailer got a little teddy bear with a patch on it and they gave it to her to play with, so she got used to the patch on the teddy bear."
Despite the couple's hectic schedule with Tom on his press tour and his wife Katie Holmes starring in Broadway's All My Sons, he can't help but "just love every moment." Calling himself "very lucky" to have Katie and his three kids — including daughter Isabella 'Bella' Jane, 16 this month — with him, Tom's heart grows even more when he hears 2 ½-year-old Suri say his favorite words. Despite an "incredible" vocabulary, the couple melt at one specific phrase.
"The ones that we love are, 'I love you.' I love hearing, 'I love you, dada. I love you, mama.'"
Raising three kids, Tom couldn't be happier with what he has managed to give them, saying "they have the life I wanted." Having "always wanted to travel the world," for cultural enrichment, Tom — whose policy for his brood is "if you're going to do it, really do it" — is proud to provide his children with the necessary tools for them to make their own, educated decisions. "That's how I raised my kids — that they have full exposure to the world and all different kinds of ideas and philosophies so that they can make choices for themselves," says Tom, who "supports them in whatever choices they want to make."
Valkyrie is in theaters December 25th. Bella and Connor are Tom's children with ex-wife Nicole Kidman.