Paul and Erin Stanley's Coffee Clutch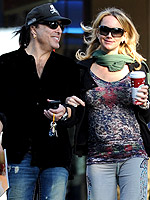 Splash News Online
KISS rocker Paul Stanley and attorney wife Erin — showing off her bump in a printed top — made a Starbucks run on Friday in Bel Air, Calif.
Paul and Erin, 36, expect a baby girl in January; they are already parents to Colin Michael, 2. Having raised an older son — Evan Shane, 14 — Paul, 56, says he's found his own way when it comes to fatherhood.
"Parenting is something that you can't do purely on reflex or on what'sfamiliar from what you saw at home … you have to find what you believe is the right way to do it."
Who else is due in the months ahead? Find out in our Who's Due Next gallery!