Marissa Jaret Winokur Returns to Broadway in Hairspray, Brings Son Zev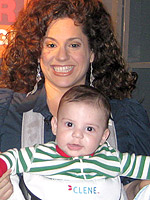 Courtesy Marissa Jaret Winokur for use on CBB
Six years after originating the role of Tracy Turnblad in the musical Hairspray — for which she won a Tony — and later ballroom dancing her way into our lives in season six of Dancing With the Stars, Marissa Jaret Winokur returned to Broadway on December 9th for the last 38 performances of her star-making show. What's different this time is that she's a mom, so she brought her son Zev Isaac Miller, almost 5 months old, to New York with her! By day, Marissa blends in with the tourists checking out the sights; by night, she dons her wig and enters the segregated world of 1962 Baltimore.
Click More to read Danielle's exclusive interview with Marissa, check out our exclusive photos and a video of Zev helping her rehearse!

Danielle: You opened Hairspray on Broadway in 2002, performed in LA, came back in 2005, and now you're back on Broadway for the first time in three years. What's different about doing the show now that you're a mom? How is your energy level?
Marissa: I actually have more energy now. The show used to seem like so much work, but now that I'm a mother, I know what tired really is and how much you can do on little sleep.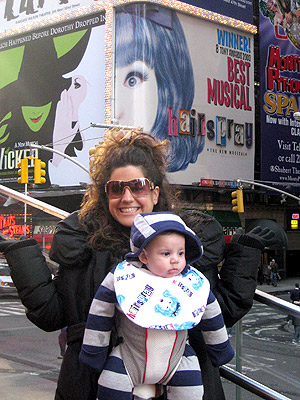 Courtesy Marissa Jaret Winokur for use on CBB
How many shows has Zev attended? Does he spend any time with you during intermission? Perhaps during matinees?
Zev has been to three out my first eight shows. My favorite thing is to come up to my dressing room at intermission and have Zev sitting on my couch waiting for me. Matinees are much easier because it's still light out when the show is over. I love that once I open my mouth he knows it's me, even in the Tracy costume!
How long did you have to get back up to speed?
I had two weeks to throw my stuff in suitcases and four days of rehearsal in New York. I was more worried about moving Zev to New York City in the winter than relearning the show. I think that's the secret. It made it easier to rehearse the show because I wasn't worrying about myself. That's a first…
We saw Zev helping you warm up in the video — tell us more about that. I heard he sings along.
He really tries to make the sounds he hears — it's crazy! He also stares at the piano and wants to touch the keys! I'm so grateful to be back in Hairspray because I really hadn't sung for three years, and am not sure I would have been singing so much with him. But now we have such a special bond that I will continue to sing every day. Zev loves the music — he kicks his legs with joy whenever he starts to hear the music. I love it so much!
Does he have a favorite song?
It was "I Can Hear the Bells"… but now in the show he likes watching "Welcome to the 60s." I think the colors and the lights excite him!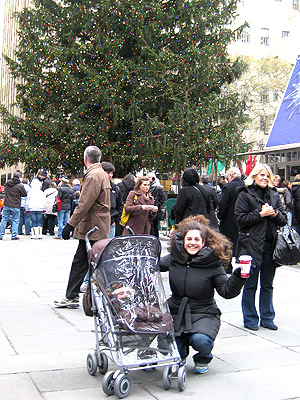 Courtesy Marissa Jaret Winokur for use on CBB
What things are you looking forward to doing with Zev in NYC?
I took Zev to the [Christmas] tree [in Rockefeller Center], but I can't wait to go to Central Park! The very first thing I did was take him to Times Square and take a photo at the Hairspray billboard before they take it down!
What will your Christmas and Hanukkah be like in NYC? Is there a performance?
Yes, there is a show! My whole family is coming here for the week to celebrate with Zev. I think I may just wrap up his toys and pretend they are new… he's only four months old, he will never know!
How did you make the transition to NYC smoother for Zev?
I actually brought all his toys and blankets and play mat! I wanted him to recognize the smells. I even brought his big stuffed animals. I only brought a few changes of clothes for myself and four huge suitcases for him!
What new things is Zev doing? What's his personality like? Is he more like you or [husband] Judah [Miller] in certain ways?
He is very determined to crawl. He rolls over and then get very frustrated! He makes lots of noise and speaks a lot. He really likes getting his photo taken! And it breaks my heart because he now reaches to be picked up. I love that! He is such a sweet boy!
I say he has Judah's soul and my WILL — he gets very strong willed and wants what he wants but does it with a sweet loving smile! I see Judah in him more and more. It actually makes me love my husband in a way I never have! He's a great dad!
— Danielle
If you've never seen the show, now's your last chance, as the curtains are closing for good on January 4th. Harvey Fierstein is also back, reprising his role as Tracy's mother, Edna Turnblad. The rest of the cast is pretty fabulous too, with R&B singer Tevin Campbell as Seaweed J. Stubbs, and Charlotte Crossley — who has backed Bette Midler — as his mom Motormouth Maybelle. (I was also impressed by the performances of Kate Loprest as Amber Von Tussle, Niki Singleton as Penny Pingleton and Susan Mosher as her mother, the gym teacher and the jail matron.)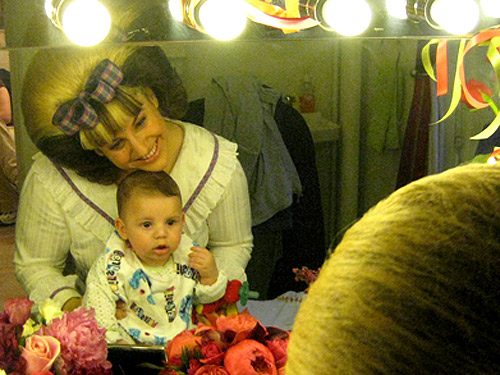 Courtesy Marissa Jaret Winokur for use on CBB.
In this episode of The Ryan O'Connor Show, watch as baby Zev helped his momrehearse, standing in as Hairspray heartthrob Link Larkin.