Brooke Shields Deals With Rowan's Potty Mouth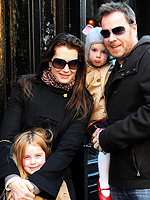 Hector Vallenilla/Pacific Coast News
Returning to her hometown of New York City has been a dream come true for Brooke Shields. She tells the Late Late Show With Craig Ferguson that while the move has been "an adjustment," it has ultimately been good for her two daughters Rowan Francis, 5 ½, and Grier Hammond, 2 ½. With her older daughter now enrolled in school, Brooke adds that even if her show Lipstick Jungle — the future of which remains uncertain — goes on to officially be canceled, she and the girls will remain in the Big Apple.
Rowan has "picked up some good New York language" during her brief time there, however, according to the 43-year-old actress. On one recent car ride Brooke was shocked when Rowan casually exclaimed from the back seat, "F-ck, f-ck, f-ck, I want my window down, f-ck." Trying not to overreact, Brooke put on her best "Botox face" and acted as though she was unaffected by what she had just heard. "[I was] like, 'I don't know what you mean. You want your window down, honey? Sure,'" Brooke explained. The incident was a sign of things to come! Not long thereafter, recalls Brooke,
"So we're having a playdate and this very prominent, very wealthy, lovely woman comes over to pick up her daughter. They're playing in my kid's room, and Rowan, without missing a beat, looks at her and goes, 'What the f-ck are you doing here?' I'm in cardiac arrest, there's no way to explain it. At which point she turns away, [sighs] and goes, 'Oh f-ck.'"
Brooke insists that she isn't to blame for Rowan's newfound potty mouth, joking "she actually learned it from my mother…That's why I'm also in therapy." In any event, with the fate of Lipstick Jungle up in the air, Brooke has plenty of extra time to devote to the situation — and the upcoming holiday! She said that "as soon as" she was told that the show was possibly being canceled, she turned her attention to Christmas shopping and is now back to being "super mom."
Rowan and Grier are Brooke's children with husband Chris Henchy.