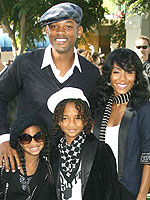 Entertainment Press/Splash News Online
As the author of the popular 1980s rap song "Parents Just Don't Understand," Will Smith has been there. Dad to Trey, 16, Jaden Christopher Syre, 10, and Willow Camille Reign, 8, the 40-year-old actor admits that while he, too, may not always understand the actions of his children, he doesn't believe that it is a prerequisite to being a good parent. "I talk to my kids, I tell them always, 'Listen, I'm an assistant in your life,'" he explained during last Monday's appearance on The Tonight Show with Jay Leno. "It really is your life and I am here to help you do the things you want to do, to help you grow." He adds,
"For me, I really just want to support what they do. Even if I don't totally comprehend it and understand it sometimes."
The concept of how quickly time passes was recently reinforced for Will, who helped Trey celebrate his 16th birthday last month. "I remember sitting in the passenger seat while this kid was driving me," Will joked. "I was like, I've got to be as old as [host Jay Leno] if this is happening." The milestone was surreal for both father and son. "I look at [Trey] and he's my height, his hair's a little bigger than mine, but when I look at this kid, I feel like I'm [still] 16," Will says. He adds,
"He's a football player, and…I see him out on the field, and I just really realize the importance of you've got to slow down and look. You have got to watch. It's like, just out of nowhere, he's driving."
Trey is Will's son with ex-wife Sheree Zampino; Jaden and Willow are his children with wife Jada Pinkett Smith. Will's new movie Seven Pounds is in theaters December 19th.
Source: The Tonight Show With Jay Leno