Nicole Richie Says Harlow Has a Sense of Style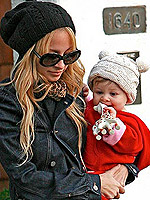 Flynet
Ready to celebrate the past year and welcome the start of another, Nicole Richie couldn't be more proud of her accomplishments in 2008 — most notably, the birth of her daughter Harlow Winter Kate last January. While welcoming Harlow has been "the best thing ever," Nicole shares that, "just in general, it's been a really great year for me. All of my dreams are becoming a reality."
Included in her 2008 accomplishments has been the launch of House of Harlow — her bohemian-esque line of jewelry. Naming her creation for her 11-month-old daughter, Nicole admits that although she is "not too caught up in [Harlow's] fashion at the moment," she can't deny that her baby girl seems to have a love for anything girly. Nicole explains,
"She likes to dress up. You can see it in her face. She just loves dressing up; she loves putting on tights and bows and stuff like that. I just let her wear what's comfortable for her. But she loves those tights."
Often photographed with Harlow running errands or spending a leisurely day at the park, the 27-year-old admits that — while she's "not complaining at all" — the constant swarm of paparazzi often leaves Nicole feeling that she doesn't "get to do everything that I want to do with her." However, the proud mama says "life is what it is," and for a celebrity couple like Nicole and her boyfriend Joel Madden, life includes photographers. "People have it a lot worse than me," notes Nicole.
Source: USA Today
Thanks to CBB reader Elma.