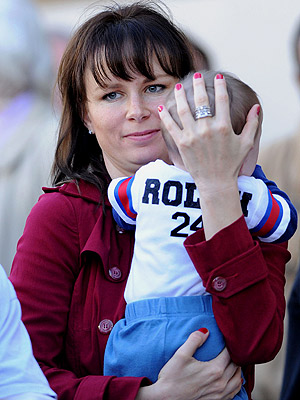 Axelle Woussen/Bauer Griffin
Mary Lynn Rajskub showed support for 24 co-star Kiefer Sutherland as he received a star on Hollywood's "Walk of Fame" yesterday, bringing son Valentine Anthony, 4 ½ months, along for the celebration! The actress introduced little Valentine last month, saying "he's smiling and just fun to hang out with."
Dad is Mary Lynn's boyfriend Matthew Rolph.
The new season of 24 kicks off with a four-hour premiere on January 11th and 12th, 2009.
Valentine wears Danajill Designs' Personalize Me Football Jersey ($20) — from Jewels and Pinstripes' Let's Hear it for the Boys bag — with the number of his mom's show (24) and dad's last name (Rolph) on the back.