All Star Buddies: A Virtual World For Kids Who Like Sports
Having spent some time with a Webkinz and playing Club Penguin, my 8 year old son and I decided to try the All Star Buddies virtual world game to see how they compared. I was curious to see how the physical activity was encouraged by these themed characters and environment.
Click More for the rest of the review.
The registration process was confusing. The terms username, screen name and buddy name were used interchangeably on various parts of the site, which is confusing to me as an adult and to my son as a child.
Once inside the Varsity Heights virtual world, it functions smiliarly to the Webkinz and Club Penguin worlds. My son found it interesting enough to want to navigate around a bit, without help, playing games, etc. His ability to read really made playing more of an independent endeavor for him. Kids who are younger or who do not read independently will need an adult to assist them often along the way.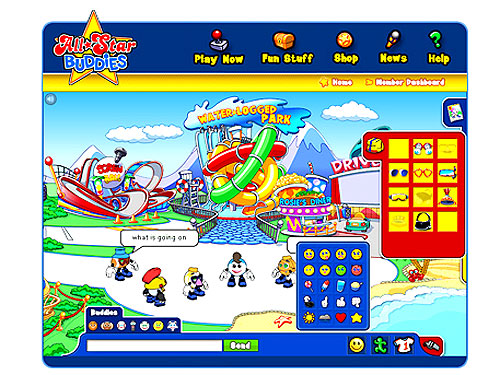 The games vary from sports related for those who love sports to thinking games, academic games and arcade style games, so there is not too much emphasis on being a jock, if that is not your kid's thing. The games, as I observed them, seemed to be simple enough to learn but his held interest. My son enjoyed many of the games specifically the mini-golf game and the submarine golfball game. When he saw that the was earning coins to spend on 'stuff' he was spurred on even further, but earning coins was slow and the amounts awarded seemed small in comparison to what you would have to pay to buy your buddy something, even small items. In fairness, some of the things you could buy for your buddy were quite novel, like a new hairdo that lets you choose your buddy's hair color and gumballs that make your buddy change colors while he plays.
Unfortunately, some of the places that seemed to be games were not accessible or did not do anything when we clicked on them. That could be our error in navigating, but it seemed hard to know for sure if any one thing on the screen was, or was not, interactive. For example, skeeball did not respond to our attempts to play and we tried to play tic tac toe but there was never anyone else logged on to play with. From time to time, we saw other characters appear onscreen fleetingly, so we never got a chance to try chatting or interacting with others.
The games themselves are engaging and fun and the site attempts to teach the right messages, but the registration process, navigation and technology was at times confusing and unclear and is in need of future refining. After all, this is a site for kids. It could use a bit of work on that front.
— Stephanie