Cate Blanchett Uses Santa to Her Advantage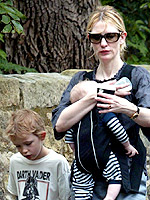 INF
Decisions, decisions! Cate Blanchett has a big one to make as she prepares for son Dashiell John's upcoming 7th birthday party — which Power Rangers costume to don? During a Friday appearance on The Tonight Show with Jay Leno, the 39-year-old actress admitted that she was confused by which — if any — of the Power Rangers are actually women, however. "I think it was the pink one that had breasts," she mused. "No, you know what, the yellow one has man boobs and the pink one has a skirt. So I have a choice!"
December is shaping up to be a very big month for Dashiell, indeed, if he continues to play his cards right. With Christmas just around the corner, he's been backtracking on a recent statement he made to mom, however! "Dash, he was in the car the other day and he was acting out, so I said, 'Look, if you're not careful, Santa sees all and he might not come and deliver the presents,'" Cate recalled. "He said, "Santa doesn't exist.'"
"I could see him, for a split-second, just reconsider what he'd said. Because he realized, 'Hmmmm…You only get one layer of presents if Santa doesn't exist.' So now he's been writing copious letters to Santa, to reaffirm his existence."
In addition to Dashiell, who turned 7 last Wednesday, Cate and husband Andrew Upton are parents to Roman Robert, 4 ½, and Ignatius Martin, 8 months.
Source: The Tonight Show with Jay Leno