CBB Talks to The Office's Melora Hardin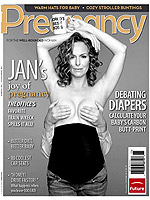 Courtesy Pregnancy for use on CBB
We've loved Melora Hardin as Michael Scott's ex-boss and ex-girlfriend Jan on The Office and were surprised when she showed up, pregnant and topless, on the cover of Pregnancy magazine, imitating the Rolling Stone Janet Jackson cover. Then we saw the "Baby Shower" episode of The Office where Jan brings her new baby to meet the staff, wheeling her in an Orbit stroller and singing Son of A Preacher Man. Though we confirmed that she wasn't pregnant in real life, we were excited about the opportunity to talk to her about shooting the cover, that episode, how she's raised her two happy and well-adjusted daughters, Rory Melora, 7, and Piper Quincy, 3, in Hollywood, and her two homebirths, extended nursing and co-sleeping.
Click 'More' to read part one of our exclusive interview!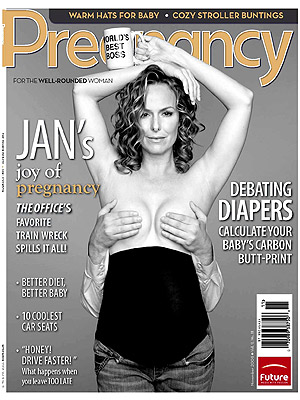 Courtesy Pregnancy for use on CBB
Danielle: We just think it's so funny how you did the cover of Pregnancy Magazine as Jan Levenson. Who came up with the idea?
Melora Hardin: Well, my publicist and I were kind of bouncing it around. He pitched it to the magazine, they thought it was funny and we all went for it.
What I really want to know is whose hands were those?
Well they were just someone who volunteered in the office! I actually didn't realize that we were doing that cover — we'd talked about some other covers, some other options — and we did this cover in San Francisco, where their offices are. I walked in and said, "What cover are we doing?" And they said, "Oh, we're going to do the Janet Jackson spoof." And I said, "Well whose hands are we using?" And they said, "There was a guy who volunteered in the office." And I said, "Oh, I'm sure there were a few guys in the office who volunteered!"
How did your husband feel about that?
You know, I think I would've planned it differently had I known. If I'd known we were doing that cover I would've brought him along. But it worked out just fine. Actually, the poor guy who did it had to sit in that position for quite some time. He was doing Kundalini yoga because his arms were shaking — he had to hold that perfect position, that exact position for 15 minutes. He was working hard — it probably wasn't as pleasurable as it actually looks!
It had to be kind of uncomfortable and sweaty for you, too.
I wasn't the one doing the hard posing, he was doing the difficult stuff. He was down on his knees and his arms were up.
The whole office was discussing the episode of The Office that co-starred the Orbit stroller, especially the scenes where Dwight "bumper tests" it. Then we learned from the folks at Orbit that it wasn't paid placement, that the writers or producers just really liked the stroller! (Watch the two-minute replay of that episode here.)
Yes. And they were really nice people. My husband and I are thinking of having a third kid, so I pulled the Orbit guy aside and he said, "Oh yeah, we'll deck you out!" It's kind of heavy, if you're just going to carry the car seat around, which I never really did — I like the snap-and-go thing — but if you just snap it on, it's pretty cool.
So you're thinking about a third? Any time soon?
I don't know! Maybe early next year or something? Whenever the time is right. We're practicing!
Do you talk about it with your daughters?
Oh yes, they're begging for it, particularly the little one. She always says, "I want a baby now!"
Are you planning anything special for the holidays this year?
Well my husband is English, so we went to England for about a week-and-a-half before Thanksgiving, then to my brother and sister-in-law's house to see my niece and parents on the holiday. We usually always do that. It's fun family time. Then Christmas I'm not sure. There's something pending that I can't really talk about right now, but if that happens, our Christmas will be a lot of fun.
Do your girls get really into Christmas?
Yeah they do. They love it. They love Halloween, they love Christmas, they love Thanksgiving, they love it all. They love family time, the celebrations. It's just fun.
My daughter is old enough to understand concepts like gifts on birthdays but she's also kind of experiencing holidays for the first time in a way she can comprehend so it's all new to her — the presents AND family time. What about your daughters, are they into the gifts too? Or more into the family time?
They like the presents. But they don't feel like they need that much to feel satisfied. We usually give them a couple things that are really, really special. And then we give them a couple of other little things and they're happy.
Now that my daughter is old enough to understand that we don't just "visit" with toys at a store, that we can buy them and bring them home, she has become so much more of a consumer. It's become a real challenge because we want to be able to provide for her and we can afford it but we also want to keep her grounded. What's your advice on instilling that in your daughters?
My children are really reasonable because I give them warning. If we're going to the toy store, I let them know that we're driving to the toy store, and I say, "OK, we're going to the toy store, and you can each pick out ONE thing. And there's going to be no complaining. Do you think you can do that?" And they say, "Yes!" And I say "OK, cause that really means one thing! You can go through the whole store and if you see one thing that you like, unless it's crazy expensive we'll get the one thing you want."
So I feel that forewarning of what's expected of them works really well with my kids. I use that in many areas. I've taken them to theater and I tell them what's expected in the theater, I ask if they can handle that and they say "Yes," and then that's what's expected of them. I'm not one of those people who's going to have children screaming and carrying them out of the theater unless they're sick or something. They really know what's expected of them. They understand there's weight to carry to be able to do certain things that are grown-up. We talk about how they have more than some kids have, and they should be grateful for what they have.
We also turned our TV off seven years ago. So they don't really watch a lot of commercials, and they're not desiring the crap and junk that commercials are trying to sell them. They watch some hand-selected DVDs, and only on the weekends, they're allowed to watch an hour on Friday and Saturday, or a movie that's acceptable. And they have gone to a few movies, we've taken them to a few movies we find sweet and benign. I love the Kit Kittredge movie — it was sweet. Because they've had low media in their lives, and they're very, very sensitive, they don't need a lot of high-drama storytelling.
I remember when my older daughter saw the Tigger movie, we rented the DVD, and it was just far too dramatic. Tigger almost dies in an avalanche, and she really goes on that ride. Even though I'm saying, "It's all going to be OK and Tigger's going to be fine," it's hard for her. So we watch that very carefully.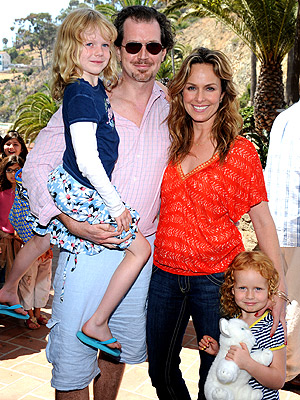 Axelle Woussen/Bauer Griffin
I know you've taken them to media parties and releases because we've seen them on the red carpet!
We went to The Little Mermaid: The New Beginning [release party] on Catalina Island. It was cute, but some was a little scary. The event was so badly planned — they had us on a
ship to come out to Catalina Island and watch the movie, but they had no food for the children! They were supposed to show the movie at 12:30 but they didn't start til 1:30, and all they had was stale popcorn and drinks, and we were just sitting there drinking water. Children need to eat at like noon; you can't hold a kid off until 3 p.m. for lunch. So I felt bad because I didn't plan well, but my youngest daughter had a complete meltdown, and it was horrific because she was starving! So my husband ran across the street to get them Luna Bars to tide them over.
Ugh, what a disaster!
But a lot of those events have been really nice. We went to a Mattel girls' tea party at the Hotel Bel-Air, and that was beautiful. They liked that a lot — they like being ladies and getting dressed up.
Do they know that's a special thing they get to do because of what their mom does for work? Or do they think all kids get to do that?
I don't know. I think they realize those events are special, but I don't really go in to the fact that they get to do them because of me. It's more like they get to do something that's special. A lot of kids get to do special things. I don't want to put a lot of fear into them — I know they're going to learn as they get older, that when I say, "Not all kids have what you have," they'll know what that means. I don't need to hammer that into their heads, because the world is going to be right there in front of them. 


Pretty much everybody in my life has a record, so they think that everyone has records and sings and writes songs, because many of my friends are singers and songwriters and have records and can sing. So we're constantly putting on music and saying, "Oh this is Paula, and this is Mark, and this is mommy." So that's funny. As far as acting goes, I think they get that I'm an actor, and I get recognized a lot and stuff.
Kids reflect whatever you put out. I'm OK with getting recognized. I've worked hard to find a centeredness about that, so they don't really find it offensive.
How often do people come up to you?
Quite often, I'd say every day there's a few people that say something depending on where I am and what I'm doing, if I'm out and about. When I was in Tennessee filming the Hannah Montana movie, I couldn't go anywhere without being recognized constantly. So it kind of depends on what city you're in. In L.A. people are much more used to seeing celebrities so you see them recognizing who you are, but not saying anything because they don't want to bother you about it. They're mellow, whereas in Tennessee they're like, "OH MY GOD!"
Do people come up to you less when you're with your family than when you're by yourself?
Not in Tennessee! It's a family-oriented place, so they all want to hold and hug my kids and say hello to me. I think every city is just really different. L.A. is different, and New York everyone is walking like they're in their own little tunnel, head down, texting. Each city has got its own personality.
— Danielle
Click here for part two of our exclusive interview with Melora!