Kelly Rutherford Explains Baby News to Hermès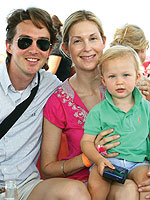 Sara Jaye Weiss/StarTraks
Not only will Kelly Rutherford and her husband, German businessman Daniel Giersch, become parents for the second time when they welcome their new baby in June, but 2-year-old Hermès Gustaf Daniel will become a first-time big brother! In an effort to make the transition as smooth as possible for her son — who is already showing signs of interest in the growing belly — the 40-year-old actress tells PEOPLE that the couple have been successfully hunting for creative ways to explain to Hermès that, in a few short months, a new baby will be joining the family.
"My husband actually found some really cute books about explaining to your kid about the baby that's coming and the mommy being pregnant … what goes on with the mommy and then what happens when you bring the baby home. It's really helpful."
With her attention focused on including Hermès throughout the pregnancy and making sure he is comfortable once the baby arrives, Kelly has had little time to ponder her character's fate on her hit show Gossip Girl, but admits she is not worried in the least! In an effort to give the writers "time to think about [the storyline]" Kelly broke her exciting news early and with "so many great storylines going right now," is confident that the writers have not changed their original course. As the show's season wraps far before her due date, Kelly is hopeful that hiding her bump won't be a problem!
"I'll only be I think about six months pregnant when we go on hiatus so it shouldn't be too difficult to figure out and work around it."
Source: PEOPLE