Katie Holmes on Seeing New York Through Suri's Eyes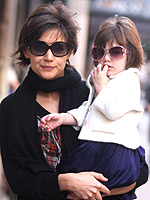 Dara Kushner/INF
Like other high-profile celebrity moms before her, Katie Holmes says that the key to happiness is staying focused on work and family — and shutting out the rest. "I'm a mom and an actress with a play to do every night," the 29-year-old tells The New York Times Style Magazine. "I can't pay attention to all that noise." Since moving to New York City for her Broadway debut in All My Sons, the reality of that fame and the fame of husband Tom Cruise has at times been hard to avoid, however; Lamenting the lack of underground parking, Katie notes that "you can't really sneak in anywhere like you can in L.A." On the other hand, the upside of life in the Big Apple for the couple's 2 ½-year-old daughter Suri is obvious.
"Try to see New York through Suri's eyes. She goes to music class and for walks in Central Park."
Gymnastics lessons at Chelsea Piers were not quite as successful, however, so the couple improvised. "There were so many people that Tom decided to take over an apartment in our building and turn it into a gym for her," Katie explains. "He had mats put on the floor and brought in an artist to paint animals on the walls."
"The teacher can come to Suri's gym now — she has her own place to do gymnastics."
Katie's flair for fashion is often on display through Suri, andmother-and-daughter have been known to collaborate. A project-orientedperson "whether it be a movie or a play or designing clothes or aparty," Katie says she delighted in designing Suri's Halloween dress — with considerable input from her tiny muse!
"Iasked Suri what she wanted to be for Halloween, and she said she wantedto be Halloween. So I found orange fabric with all these bugs on it andI designed a dress for her and a matching dress for me. We're sort ofpumpkins."