Anthony Bourdain Wants Daughter to Eat Like an Adult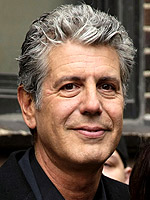 Brian Ach/WireImage
Parenthood may have calmed Anthony Bourdain down some, as the famously acerbic chef admits that he now tries "not do anything really stupidly self-destructive if I can avoid it," but that's not the only outlook that's changed. The Anthony Bourdain: No Reservations host now focuses more on the types of food he introduces to his 19-month-old daughter Ariane because he wants her to keep an open mind. "I very much don't want her to fall into a groove where she wants agrilled cheese sandwich with the crusts cut off and nothing else," he notes.
To help prevent that, Anthony makes sure that he gives Ariane different types of food — including organic, even though he's been critical of the movement in the past — and encourages her to "eat like an adult," saying that "the more often that she does, the happier I am." Even though he is creating recipes for his daughter, don't expect a cookbook for children from the 52-year-old.
"Um, no … I'm hardly in the position tospeak authoritatively about something I really am just learning myself.I am not Bill Cosby yet. I don't have the sweaters."
Anthony is married to Ottavia Busia. Anthony Bourdain: No Reservations airs Mondays at 10 p.m. on The Travel Channel.
Source: WRAL