Alison Sweeney 'Dying' For Pregnancy to be Over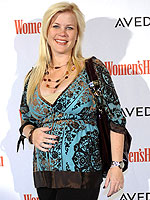 Stefanie Keenan/Wireimage
During a Thursday appearance on The Ellen DeGeneres Show, Alison Sweeney — due January 20th with her second child, a girl — revealed that she's still dealing with some hormonally-charged anger, and still craving pickles! "My mouth waters just talking about it right now," the 32-year-old actress admitted. "I have to stop myself from drinking the pickle juice." She adds,
"My husband gets kind of grossed out because sometimes I don't really understand the combinations I'm creating. Like I'll want hot chocolate, and then I'll want a pickle, and then I'll find myself [having] both."
Already mom to 3 ½-year-old Benjamin Edward, Alison says she "didn't know what to expect" with a subsequent pregnancy; with the finish line in sight, she admits that she's "dying to end this." Viewers might have thought they were about to see Alison's wish granted when she appeared to go into labor following a commercial break, but she was simply displaying some of the acting skills which have made her famous on Days of Our Lives. "She did not go into labor on Ellen," her rep confirms to Access Hollywood. "It was part of a stunt for the giveaway segment."
Ben and baby-on-the-way are Alison's children with husband Dave Sanov.
Sources: The Ellen DeGeneres Show, Access Hollywood