Terrence Howard Makes Kids' Wishes Come True at Christmas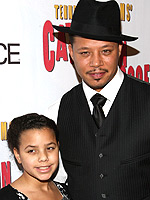 Jason Kempin/WireImage
Simply being home for Christmas is the best present Terrence Howard can give his three children Aubrey, 15, Hunter, 13, and Heaven, 12, the 39-year-old tells OK! "My kids love music, so they want instruments, but mostly what they want is my time," he explains. "This business can pull you away a lot, so they want me home." Wish granted! Terrence says he's looking forward to taking a break from his busy acting and singing career to mark the holiday, and his kids are looking forward to their break from school. When asked what the best part of Christmas is as a parent, Terrence replies,
"Just seeing the joy that your children have at being home for vacation. Remembering when I was a kid myself, and seeing the younger version of myself smile up at me, and knowing that I have the opportunity to make all of their wishes come true."
Aubrey, Hunter, and Heaven are Terrence's children with Lori McCommas. His debut pop album Shine Through It is available now.
Source: OK!