Noah Wyle Says Nothing is Better Than Being a Hero to Son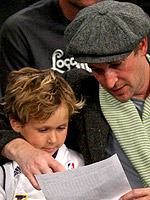 Kevin Reece/London Ent/Splash News Online
Although he walked away from the role of John Carter on ER three years ago, Noah Wyle says that the part will always have a special place in his heart because of how it transformed his life. Telling The Improper that "in many ways" he "grew up" on the show, Noah notes that he "started as a single man living in a duplex apartment with a cat, and walked off married with one child and one on the way." Those children — 6-year-old Owen Strausser and 3-year-old Auden — aren't quite ready to see Noah's latest work, in the third installment of the TNT miniseries The Librarian: Curse of the Judas Chalice, but when they are the 37-year-old actor feels confident that they'll approve.
"They're so much fun to do. My son is so close to being of the age now where he can watch them and think his father's far more heroic than he really is, and I can't think of anything better!"
Owen and Auden are Noah's children with wife Tracy Warbin, whom he married in 2000. The Librarian: Curse of the Judas Chalice airs Dec. 7 at 8 p.m. on TNT.
Source: The Improper