Michael Sheen's Custody Arrangement Very 'Informal'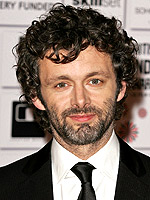 Big Pictures/Bauer Griffin
For 9 ½-year-old Lily Mo, a yearning for a change of scenery simply means a change in household, says actor Michael Sheen. Walking the red carpet for the premiere of his new movie Frost/Nixon, the 39-year-old tells OK! that sharing custody of his daughter with her mom, actress Kate Beckinsale, has been "relaxed and informal," as the couple have let Lily mandate her own schedule. "We don't work anything out too much. It's up to Lily a lot of the time," explains Michael.
"When she gets bored of me, she goes to Kate, and when she gets bored of Kate, she comes to me."
However, despite being raised by two successful actors, Michael is hopeful that his daughter will forego the acting industry, and follow her passion of writing. "I hope she's going to be a writer. She's a very good writer," gushes Michael. In the meantime — as she pens countless novels — Lily is enjoying the excitement that comes along with live productions as, according to her father, she is currently thrilled to be "rehearsing Mamma Mia! in her drama class."
Source: OK!