Keri Russell Plans to Create Christmas Traditions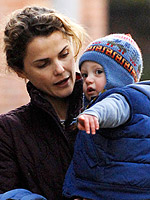 Ramey
Preparing to celebrate their first Christmas in Brooklyn, Keri Russell, husband Shane Deary and son River Russell, 17 months, are set on building new traditions together as a family.
"This is our first real Christmas," Russell told PEOPLE Wednesday at an event for Just Look for UL, a campaign to teach children holiday safety tips. "Wehad one last year but River was such a baby, so this is thefirst year that he's older and can run around."
Of River, Keri says his personality is starting to shine through. "He's very cute," she said. "He's very sweet. He's just a sweet, mild-mannered guy. He's definitelya boy. He loves playing with trucks, being with his dad."
The actress, 32, who appears in this month's Bedtime Stories with Adam Sandler, says balancing her career and motherhood can be tough. "I'm working on it," she said. "It's just an everyday process. You justtake it a day at a time and try to keep the things that are important,like family, important."
Bedtime Stories hits theaters on December 25th.
Source: PEOPLE