Kelly Rutherford Hopeful 'Bowls of Fruit' Can Hide a Burgeoning Belly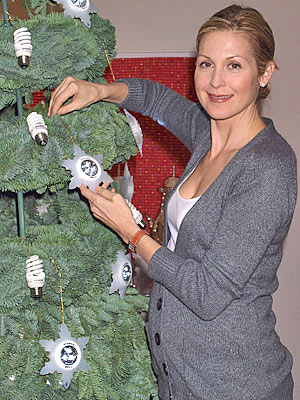 WENN
For many writers of weekly television shows, finding a solution to an actress' unexpected pregnancy is quite simple — write the big announcement into the plot line and avoid spending several months inventing creative ways to hide a burgeoning belly. While the method may be quick and simple, actress Kelly Rutherford — who recently announced she is expecting her second child in June — is hoping that the crew on her hit show, Gossip Girl, can become a bit more ingenious and avoid the more obvious option.
Although Kelly is aware that the writers "could change their minds" about the course her character takes, she is hopeful they are able to keep "what they've written now, it's so wonderful." The 40-year-old laughs that, with the help of a few props, she is more than willing to do her part as well!
"I'm hoping I can just walk around holding bowls of fruit — or standing behind counters. My handbags will get a little bigger!"
Thrilled with the upcoming arrival, Kelly admits she is having trouble waiting to find out if her 2-year-old son Hermès Gustaf Daniel will be welcoming a new brother or a sister. In the mean time, however, Hermès is quite content rubbing his mommy's growing belly, saying, "Mommy's tummy!"
Hermès and baby-on-the-way are Kelly's children with her husband, German businessman Daniel Giersch.
Source: Life & Style