James Morrison Wants To Unlock Daughter's Musical Brain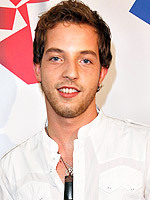 Jon Furniss/WireImage
Singing to his baby while she was still in utero was a priority for James Morrison, and he hasn't stopped now that daughter Elsie, 3 months, has arrived. "In general, it's good to have that musical part of your brain unlocked, you know," the 24-year-old singer explains. "I just really wanted to make sure whatever happens, whether she's a singer or not or a musician or not, as long as she knows what good music is and she can hear great songs, then that's what I want her to do." With that said, Elsie isn't shy about letting dad know when she needs a break!
"Yeah, I started singing this thing to her the other day, like, 'You're always crying, you're always crying to me!' I just kind of, yeah, I try not to overpower her with singing too much to be honest. I play her a lot of music though, you know, and you know there's plenty of time for her to get used to my singing voice."
On one special occasion — the day Elsie was born — James broke out in song, serenading his new baby with "Isn't She Lovely." Unimpressed, Elsie began to cry! "I was like, 'ha ha ha, 'cos she hates it!'" James recalls. "But no, she was early so you know, that's probably why she was crying." For now, James — who says he'll likely record "some tunes" about his baby girl sometime in the future — is sticking to lullabies.
"I think it's good to you know, give them a little bit of a tune before they go to sleep. I used to like it when my mum used to sing to me. So yeah."
Elsie is the first child for James and his longtime girlfriend Gill.
Source: Javno