Christina Aguilera Says it's 'Tough' Being a Working Mom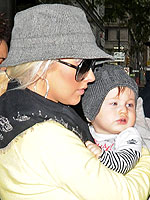 Arnaldo Magnani/Getty
While walking the red carpet last night at the Grammy Nominations Concert Live!, songstress Christina Aguilera said that although her job description may be unique, the "balancing act" she faces is the same being faced by working moms everywhere. "It's a tough thing," the 27-year-old mom to Max Liron, 11 months next week, admits. "He puts his arms up and everything. I had a moment leaving him today to get ready for tonight of missing him, but every working mom goes through it…They know what it feels like."
When Max does get upset, Christina employs a special tune to calm him. "I do hum one thing inparticular," she notes. "It's from the Mary Poppins soundtrack called, 'Stay Awake.' It's the lullaby from the movie and I've always loved that song."
Recognizing the importance of her career to her overall happiness is something Christina hopes Max will someday learn from, however.
"I wasn't going to give up who I was before I had the baby. It's important to stay true to that as an example — also for my son to find out what his goals are, what he's passionate about doing, so it's sort of leading by example in that sense."
Max is the first child for Christina and her husband Jordan Bratman. The couple wed in 2005.
Source: Associated Press; Access Hollywood