Victoria Beckham a Stickler For Good Manners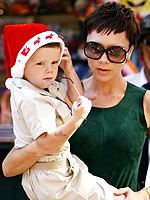 Most Wanted Pictures
When Victoria Beckham made the move across the pond from England to the United States in 2007, she initially did so alone. The 34-year-old songstress and fashion designer tells the Times Online she arrived ahead of husband David Beckham and the couple's three children — Brooklyn Joseph, 9 ½, Romeo James, 6, and Cruz David, 3 ½ — so that the boys "could literally drop their suitcases in the hall and find that dinner was on." Since that time, Victoria says that her family has enjoined a relatively low-key lifestyle in California, where she considers the paparazzi to be less of an intrusion than in her homeland.
"They have these driveways and there's a law that forbids photographing on private land, so when I pick the kids up from school we never get papped."
Crediting her own mom and dad for being "real sticklers for good manners," Victoria says that she has in turn become quite a stickler herself — with good results! "People are always remarking on how well-behaved the boys are," she explains. "They've all got their own headed notepaper for thank-you letters."
Source: Times Online