Nicole Kidman on Defying the Odds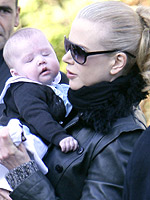 KCS Presse/Splash News Online
When Nicole Kidman refers to daughter Sunday Rose, 4 ½ months, as a miracle, she means it! During a Friday appearance on The View, the 41-year-old actress revealed that following an ectopic pregnancy and a miscarriage, she'd been given very low odds for ever having a biological child. "I was told I had a 2% chance of getting pregnant," she explains. "So I say she's a 2% baby." As she has often while out promoting her film Australia, Nicole — already mom to Isabella Jane, 16 this month, and Connor Antony, 13 — teared up when discussing her newest addition, revealing that at night she even puts her hand on Sunday's back to make sure she's breathing. "Something happened to me when I birthed that baby, that's changed me," she says. "I had Bella and Connor when I was 25, and I think at 41 something happened."
"I'm kind of very, very raw and open…I'm fearful, and all those things. I wake up going … 'Is she okay?'"
Calling herself a very creative person, Nicole can't imagine not having acting as an outlet. "I'm not just going to sit at home and twiddle my thumbs, there are stories in me that I still want to tell," she says. With that said, if she was "ever made to choose" between work and family the decision would be easy.
"I've now created this safe place where I feel so satiated, and I think that's what it is. There's a peacefulness where I just say, I know what will happen, if I'm lucky enough to live another 40 or 50 years. I've got these wonderful kids, this family…and I will fight tooth and nail to keep that."
Up next for the family — which includes Nicole's husband Keith Urban — is Sunday's first Christmas, and Nicole says that she's already begun decorating. "Keith drove up the driveway the other day and burst out laughing, he said it looks just like Disney Land," she says. "But I just wanted it [that way]…little baby loves lights."
Bella and Connor are Nicole's children with ex-husband Tom Cruise.
Australia is in theaters now.
Source: The View