Kerri Walsh Expecting First Child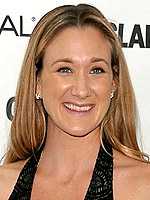 Dimitrios Kambouris/WireImage
Olympic gold medalist Kerri Walsh and her husband Casey Jennings are expecting their first child together, with the 30-year-old beach volleyball player telling Access Hollywood, "I'm chubby and I'm pregnant and it's awesome!" During the 2008 Olympics, Kerri and partner Misty May-Treanor both said that after the games they would be turning their attention to starting families with their respective spouses; At 16 ½-weeks pregnant already, Kerri's work towards that goal was apparently underway in Beijing!
"Well, the way they date pregnancies is a little bit confusing. We believe we conceived during our last days in Beijing, or about a couple of days after we won the gold medal."
Undeterred, Access Hollywood host Billy Bush did the math and pegged conception at around the first week of August — prior to the start of the Olympic games. As she so often does on the volleyball court, however, Kerri held her ground! "I think it's impossible, but you never know!" she says. "I don't want to get into all of the details, but I'm pretty sure it was a couple of days after."
The couple are opting for a delivery surprise, but mother's intuition has Kerri leaning one way already.
"Wedon't know if it's a boy or a girl, and we aren't trying to find out.We have a feeling it's a boy, but we're going to find out thetraditional way."
For someone who has become accustomed to life in a bikini and who isnow "definitely not bikini-ready," Kerri says that she doesn't mind hernewfound curves. "I think the chubbiness is all relative, but it's forthe very best cause in the whole world, and I'm proud of it," sheexplains. "I'm just going to stay off the beach for a while, how aboutthat?" Kerri revealed that although Misty — who signed on for Dancing With the Starsshortly after the Olympics — won't be baby-on-the-way's godmother,she'll still have a special role in its life as "Auntie Misty." As forMisty's efforts to have a baby, Kerri is keeping mum.
"I know that she's trying, and that's all I can say!"
Kerri is due in mid-May.
Source: Access Hollywood