Celine Dion Would 'Love to Extend' Her Family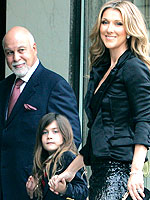 Thibault Camus/AP
When she wraps up her world tour next year, Celine Dion says that she sees another major life event on the horizon — a new baby. In an interview with the CBS Early Show, the 40-year-old songstress confirms that she and husband René Angélil have at least one embryo frozen in their efforts to make 7 ½-year-old René-Charles a big brother. "We'd love to extend the family," she reveals. "I started to talk to René-Charles about it…He said 'Can we have four and five?'" For now, the family of three is enjoying life on the road but Celine admits that she sometimes feels "guilty and bad" because "children need stability."
"We are normal people, but we have a very, very different life…I'm proud of René-Charles because he copes and he's let me do my things. But I tell you, when I am in my PJ's, that's his favorite time and it's mine too."
From the sound of things, René-Charles' long hair — often a topic of lively discussion with readers — is here to stay. "My son loves his long hair and it doesn't bother us," Celine explains. "We see he's got long hair and when he's ready [he'll get it cut]." She jokes,
"Maybe he'll be 55 when he's ready! His dad doesn't have any. He wishes he had his hair."
The next stop in Celine's Taking Chances tour is Phoenix, AZ, on Dec. 6.
Source: CBS Early Show