M.I.A. 'Quite Relaxed' About Impending Motherhood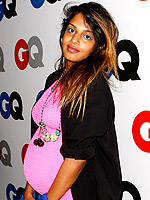 Michael Buckner/Getty
In her efforts to dissuade the baby she expects on February 8th from pursuing a career in the music industry, songstress M.I.A. is employing a bit of reverse psychology — and she's starting early! She and fiancé Ben Brewer are "going to buy it loads of instruments," she explains, "so that it will completely rebel and go the other way." Baby-on-the-way has already been treated to quite a bit of music in utero, however.
"I think my baby is going to start off making club music. That's all I've been listening to. Of course, you never know. When you want someone to do something, it ends up doing the opposite. It might end up being an accountant."
Expectant motherhood has made M.I.A. "feel more connected with the whole planet," and when she sings she's aware that there is a captive audience of one who is always listening. "I have to be aware that someone can hear me inside," M.I.A. says. "It's really strange…I definitely feel less angry." As for a name, M.I.A. says that she and Ben are waiting for the big day before settling on anything specific.
"I need to see the baby and see who it is, what kind of personality it'll have. I need to give a name that is the character of the child. We're quite relaxed about the whole thing."
Source: USA Today