Jaci Velásquez Surprised By Second Pregnancy, Expecting a Boy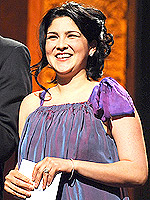 Rick Diamond/WireImage
In less than four months, life for singer Jaci Velásquez and her husband, singer Nic González will certainly be keeping the two busy! After welcoming their first child, son Zealand David, 13 months ago, Jaci is thrilled to be five months into her second pregnancy; however, she does admit that having her two children so close together will make for an interesting experience.
Saying she and Nic are "very happy" with the news, the 29-year-old reveals to People en Español that the new baby will be another son for the couple — leaving a completely elated Jaci in a household of all boys!
"I'm going to have men all around me in my life. Now I'm going to be the queen of the house."
Source: People en Español