Hugh Jackman Says Kids Take Marriage 'To a Whole Other Level'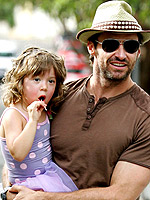 Carlos Costas/Pacific Coast News
Since becoming parents to Oscar Maximillian, 8 ½, and Ava Eliot, 3, Hugh Jackman says that the bond between he and wife Deborra-Lee Furness has only gotten stronger. Although the couple — married since 1996 — may have had dissimilar upbringings they've learned to compromise when it counts the most. "You not only fall in love with your wife in a whole different way but you're also forced to kind of pull together your own philosophies about parenthood," the 40-year-old actor explains to Movies Online. "Somehow, you've got to become this united front."
"Yes, you learn about yourself [when you have kids]. You learn about your own relationship to your parents and then how you want to parent and also I've found, your marriage goes to a whole other level."
As so often happens, Hugh says that he slowly but surely finds himself repeating "the most annoying things" that he heard over and over again as a child. "My wife quite often says 'Oh, hello Chris' — that's my dad's name — because the things coming out of my mouth sound exactly like my dad that I swore on my life I would never do." One thing that Hugh swore on his life would never happen is being named PEOPLE's Sexiest Man Alive; also surprised by the honor, apparently, was his son!
"Oscar … goes 'You? You've gotta be kidding me!' I thought, 'It's the truth!'"
Click 'more' to read about the 'greatest thing' Hugh has learned as a parent.
Shooting the epic Australia required Hugh to log some serious time with the many horses used in the film. Along the way he learned a thing or two about not only his equine co-stars, but also his kids, and considers parenting and horse riding "the same thing." He explains,
"You can whack a horse. I've seen people do it. They whack them, they kick them, and they do all that, and you can get a horse to do something. But I was very lucky to have two trainers who taught me how to make the horse feel it's their idea. I'll tell you, as a parent, it is the greatest thing I've ever learned."
Australia is in theaters now.
Source: Movies Online