Garcelle Beauvais-Nilon: I'm a More Mature Mom at 42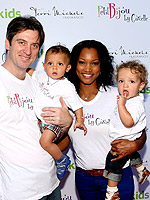 Jesse Grant/WireImage
Despite the challenges faced by women who choose to have a baby — or two — in their 40s, the accumulated years of wisdom and experience tend to offer a unique balance in the journey of parenthood as an older mom. For actress Garcelle Beauvais-Nilon — who welcomed her fraternal twin boys Jax Joseph and Jaid Thomas when she was 40 — the same is true, as the timing could not have been more perfect. "I feel like I am more woman now. I also have more patience and I don't sweat the small stuff," shares Garcelle, who "felt a need to have a big career" around the time she welcomed her first child, son Oliver, now 17.
While the spaced years between her children have certainly allowed Garcelle to grow as a person, the time span also included great advancements in the world of technology — a possible nightmare for a pregnant woman seeking answers. After showing signs of pre-eclampsia, Garcelle was forced to deliver Jax and Jaid six weeks early and admits that the easy access to medical information provided by the internet is not necessarily the best place to look for support.
"My advice would be to listen to your doctor and try not to read everything online because sometimes there's too much information out there to scare you and with modern medicine now, there's so much they can do to help."
With a positive attitude to embrace her age and her growing level of maturity, Garcelle — "a princess" in a household of boys — felt more than comfortable accepting an offer to appear on the cover of Playboy. Although the reasoning behind her decision "was strictly for me" as the 42-year-old "wanted to know that I could do it," Garcelle could not ignore the fact that as a mom to a teenage boy, the photo shoot would inevitably cause a few snickers among Oliver's friends.
"In my home, we talk about most things, so of course I told Ollie if he really felt uncomfortable about it, then it would be a no for me. He handled it in a very mature way. He brought it up to his friends and told them to get the jokes out now, so they did and then they went about their business."
Click 'More' for Garcelle's plan to give her boys a "healthy start" in life!
Although Garcelle admits that while her husband Mike Nilon, son Oliver and herself do not eat organic foods, she is determined to have her twins on a healthy, organic, diet. Growing up eating fresh foods and being conscious of the earth, the actress — who credits her family as "the best part of me" — hopes that her sons "will only know about helping our planet because that's how they will be raised." As the babies chow down on their special foods, the rest of the family is not left out as they are privy to Garcelle's family-style cooking! "I cook almost every day, all kinds of yummy foods, from lasagna, to baked chicken, pork chops, rice and beans…you name it," reveals the proud mama.
Recently, Garcelle launched her own "simple [and organic]" line of jewelry for children, Petit Bijou. Inspired by her boys and their inclination to "gravitate to the simple toys," the pieces are "colored cords with simple charms to show a kid's personality. We have teddy bears, ballerinas, guitars, crowns, dinosaurs, [and] hearts."
Source: Tasty Baby