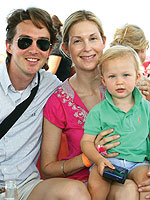 Sara Jaye Weiss/StarTraks
Gossip Girl actress Kelly Rutherford and her husband Daniel Giersch will be welcoming their second child early this summer! The 40-year-old's rep has confirmed to Us Weekly that their 2-year-old son Hermès Gustaf Daniel will become a big brother when the new baby joins the family in June. The pregnancy announcement isn't much of a surprise — Kelly alluded to another baby in October when she said she had chosen to lay off the Botox for awhile.
"I decided I wasn't going to do [Botox] again until I've had two kids and finished nursing them. Then it's a free-for-all."
Kelly and Daniel, a German businessman, have been married since August 2006.
Source: Us Weekly