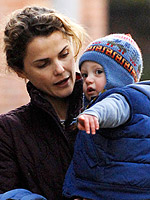 Ramey
During her pregnancy with son River Russell, 17 ½-months, Keri Russell often sang the praises of being married to a master craftsman, for her husband Shane Deary was at the time renovating the couple's brownstone in Brooklyn. Now that the job is complete, however, the 32-year-old actress is beginning to see that the home will forever be a bit of a work in progress for Shane. She tells Details magazine,
"When Shane was growing up, he lived in this A-frame house with a rope swing hanging from a rafter. The other day he said, 'I really want a rope swing for River. Let's put it right here!' And I said, 'Buuut the staircase is right here. He would fall down three flights of stairs."
Her newest movie Bedtime Stories, distributed by Walt Disney Pictures, represents somewhat of a departure from the indie roles she's chosen in recent years, and it sounds as though it was a welcome change. "It's funny and it's a movie that kids can see," she notes. Keri's co-star Adam Sandler — himself dad to Sadie Madison, 2 ½, and new baby Sunny Madeline, 3 weeks — reveals that the set was family-friendly, as well. "[Keri] would bring her son to the set to play with my daughter," he explains. "She also taught me all the dances from her days as a Mouseketeer."
Bedtime Stories opens Dec. 25.
Source: Details