Check Out Our Newest Gallery: Travelin' Star Style!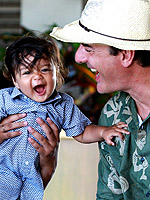 Flynet
In honor of tomorrow's big holiday, we've added a new set of photos — Travelin' Star Style!
While celebrities obviously lead glamorous lives, sometimes, they're just like the rest of us — especially when they're at the airport! Since today is considered the busiest travel day of the year in the U.S., we decided to share our favorite recent images of celebrities preparing for take-off. Click here to check out the gallery, and come back to this story to post your comments.
What are your family's travel plans for the holiday weekend?