Brooke Shields: Becoming a Mother Made Me Normal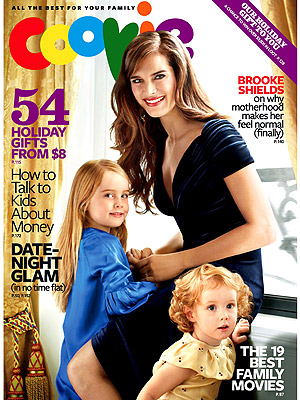 Courtesy Cookie
Life for actress Brooke Shields is far from normal. "I had this trainer once who always said to do two out of three things: eat well, rest, and exercise," says Brooke, who admits that with her hectic schedule on Lipstick Jungle and her responsibilities to her two daughters, she often finds herself having to choose "which one out of the three can I do?" As mom to 5 ½-year-old Rowan Francis and 2 ½-year-old Grier Hammond, Brooke reveals in the December issue of Cookie magazine that her freedom to do as she pleases has been replaced with long, often 14-hour days on the set of Lipstick Jungle. As the actress and her daughters have made New York City their new home, Brooke shares that her husband Chris Henchy — who manages to "bring back" a "really self-sufficient" and detached Brooke — commutes every other weekend to spend time with his family — an arrangement that is far from perfect.
However, despite stretching out her schedule to accommodate all of her loves in life, Brooke believes that now — more than ever — she has managed to reach a level of normalcy that she never once felt. This revelation was recently was brought to light during a performance at Rowan's school. The busy mom explains that she quietly arrived to the auditorium and watched "Rowan's eyes [light] up when she saw me sneaking a wave." A moment that Brooke recalls as "profound," the 43-year-old realized "it took having a child, for me to feel like I belong, that I'm normal."
Included in that sense of normalcy is Brooke's determination to spend quality time with her daughters making memories — no matter how exhausted she may be! As her "version of being selfish has shifted" over the years to accommodate her children, Brooke can often find herself sprawled out on the floor — thinking her "brain's turning to mush" — playing My Little Pony. "They're not going to remember Mom was tired. They're going to remember I did the weather chart or story time at school. So you just do it. And you're tired," explains Brooke, who says "it's the mundane stuff that is important."
Click 'More' to read why Brooke doesn't want her girls to be brats.
While Brooke is thrilled to spend time with Rowan andGrier, she is equally set on raising her daughters to be well-roundedchildren.
"There are so few children Ilike. If you're not polite, you can't come to my house. Manners[represent] respect and kindness. I want people to like my kids, and ifthey're bratty, they'll have a harder time in life."
Afteran almost too close relationship with her mom, Brooke feels it has beenher destiny to be the mother of two daughters. Rarely separated fromher own mother as a child, the actress admits that her daughters havetaught her "that it's okay to have boundaries." In fact, according to asurprised Brooke, "they want them." Another lesson that hasbeen learned as a result of being a parent herself is the undeniablefact that the joys of parenthood are often balanced out with themoments of complete despair. "Once you love someone that much, youthink, god, why did I do this to myself? It's so heart-wrenching! Andthen you realize: It's so heart-wrenching. That's why I did it to myself," says Brooke.
To see shots of Brooke and her girls from the photo shoot, click here.
Source: Cookie Magazine