Anna Belknap Scared to Reveal Pregnancy at Work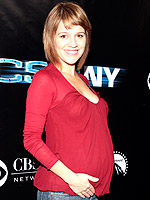 INF
When Anna Belknap learned that she was pregnant with her second child, she was nervous to tell her CSI: New York bosses, even though their show has "a very family-oriented crew." The powers-that-be "never gave any indication that it wouldn't be okay, but I was kindof nervous to tell them because you never know what their response isgonna be," Anna explains. Turns out that they were fine with it and even decided to write the pregnancy into the show this season — quite a change from last time around, when the show hid her expanding stomach.
"I would get a little vain about how huge I was and they weren't tellingeveryone that I was pregnant. I had vanity issues. It's hard to be onyour feet all the time so the director would block me sitting down."
Working while pregnant has been fairly easy for the 36-year-old, who admits she has "been very lucky" as her first trimesters with this pregnancy, as well as with her 22-month-old daughter coincided with hiatuses from the show. The one problem that expecting does cause Anna is with her memory — "Your brain doesn't work the way it's supposed to anymore when you're pregnant, so I have to spend more time learning my lines," she notes.
Anna is married to Eric Siegel. CSI: NY airs Wednesdays at 10 p.m. on CBS.
Source: Daily Inquirer